Desk MD for Mac 1.2 激活版 - 优秀的Markdown博客客户端
Desk MD 是一款Mac上优秀的Markdown博客客户端,支持Markdown语言,界面简洁大气,专注于写作,支持WordPress、 Blogger / Blogspot、Tumblr、Evernote、Facebook Notes等平台!
[Desk MD 在 Mac App Store上售价人民币98元]
Desk MD for Mac 1.2 介绍
Desk MD is the FIRST desktop blogging client that is exclusively designed with Markdown in mind!
Built intentionally and specifically for writers, bloggers, and content creators who are passionate about the text-to-HTML conversion syntax that is Markdown, it is the only native blogging app of its kind!
Based on the award-winning "Best App of 2014" (Desk PM), you'll get all the features and functionality **without** the intrusion of a WYSIWYG editor and UI.
I hope you love it as much as you love Markdown!
Are you looking for the original Desk PM (Publishing Machine) or Desk NT (Notetaking)? You can find those here:
Desk PM: http://bit.ly/desk-pm
Desk NT: http://bit.ly/desk-nt
Full Feature List:
Desk was built with the writer and blogger in mind and designed to create an unobtrusive experience that helps you focus on what matters most: Content creation.
You can then take that content and publish directly to your blog! We currently support the following publishing platforms:
WordPress (self-hosted and .com)
Medium.com
Blogger / Blogspot
Tumblr
Squarespace (Post via Email)
Evernote
Facebook Notes
Focused Writing Experience
Focus on what matters the most and remove everything else.
Clean, simple, and a true distraction-free interface
Typewriter Mode for the serious focus
Themes and styles including font treatments, style, size, and column width
Markdown only!
Shortcuts for maximum speed (Formatting, Publishing, and more)
Assortment of writing modes and visual styles (Full-Screen, Transparency, Day & Night, Font and Text Treatments, Responsive Layouts, Floating)
Sync & Backup
Whether you're on the go or connected to a fiber line you'll be ready when inspiration strikes.
Save your work locally with powerful "Offline" mode
iCloud integration for maximum portability
Automatic backups (Autosave) while you write (iCloud and Offline)
Powerful Publishing
Publish your work to multiple blogs, platforms, and more. Edit existing posts with ease!
Access, edit, and update existing posts and drafts
Schedule posts for later publishing
Post Formats for WordPress and Tumblr
Drag-and-drop images, add captions
Support for embedded media (YouTube, Vimeo and more coming soon)
Integration with WordPress, Blogger, Tumblr, Squarespace, Evernote, and Facebook Notes
Custom features for each publishing platform (e.g. Featured images, categories, tags, custom slugs/URLs, labels, and more)
"Quick Publishing" for even greater speed
Preview mode with real-time updating
Organization & Utility
Your content, your way.
Intuitive new Preview Mode
Real-time meta information (Character and word count, Time to Read, Writing Mode)
Search and replace, dictation, spelling, grammar, and more
Powerful use of native OS X capabilities
Export as HTML, RTF, PDF, DOCX, TXT, MD
Support & Community
We want to hear from you (seriously)! Especially how you are using Desk to publish your great stories!
Get connected to us here:
Support: http://talk.desk.pm
Twitter: http://twitter.com/deskpm
Email: info@desk.pm
Website: http://desk.pm
Blog: http://blog.desk.pm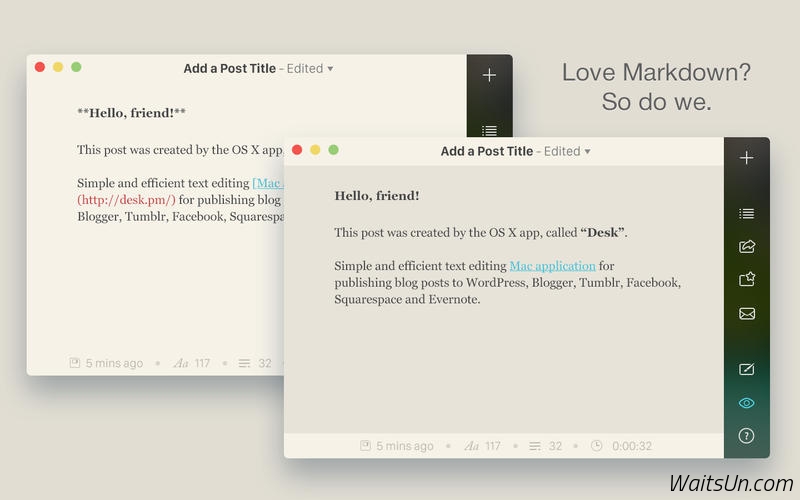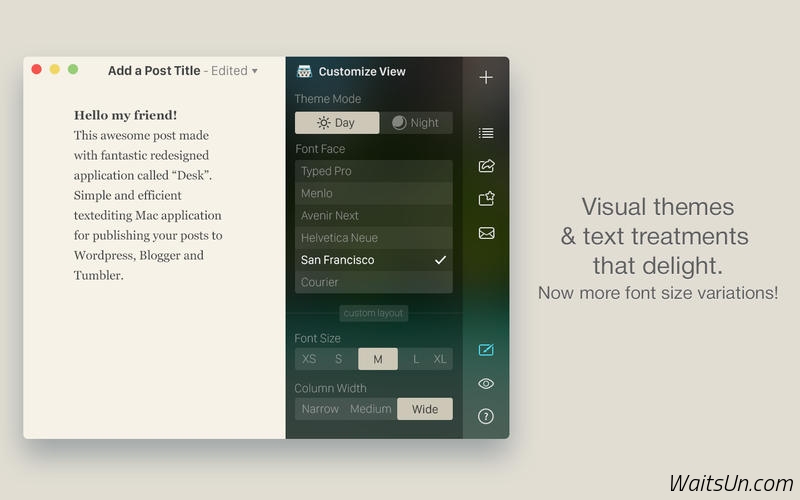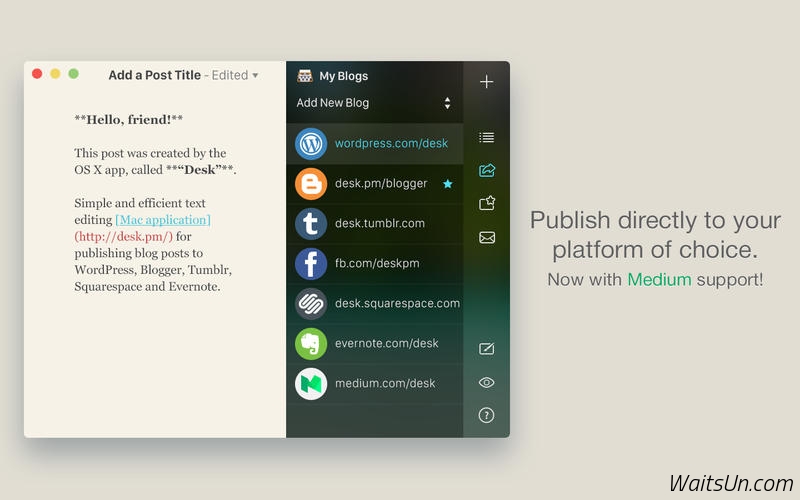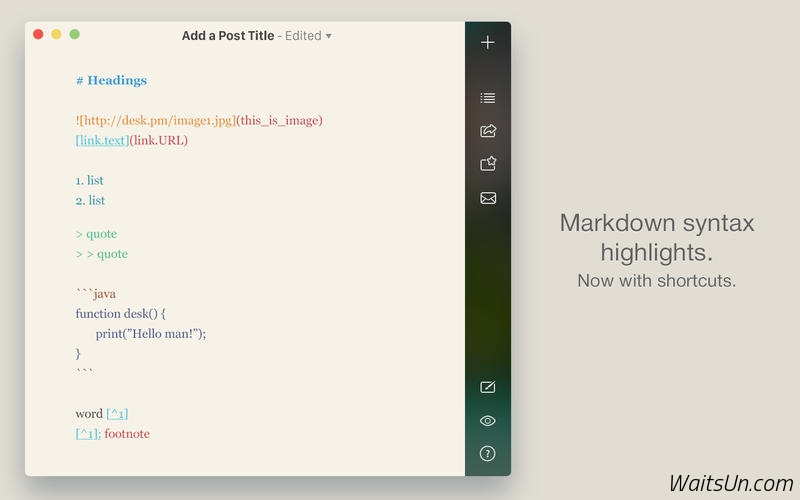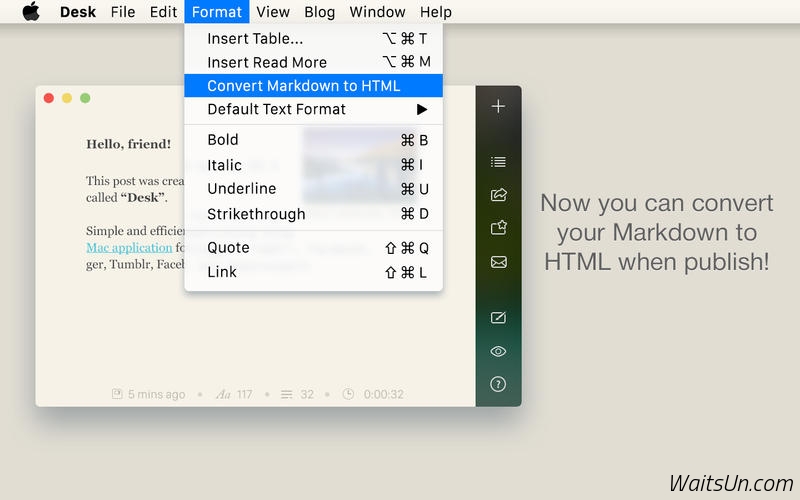 Desk MD for Mac 1.2 下载
免费下载