Remixlive for Mac 1.2.3 激活版 - 优秀的Clip音频播放工具
Remixlive 是一款Mac上优秀的Clip音频播放工具,自带采样编辑器,可以直接在 Remixlive 里对 Loop 和 One shot 素材进行编辑和处理。简单粗暴的 Remixlive 不仅仅只是独立 App,还可以作为 AU/VST 插件存在于其他宿主当中。小伙伴们就可以单独为宿主添加一个 Clip 播放模块,如此一来任何宿主都可以像 Ableton Live 一样用于现场表演,非常强大!
[Remixlive 在 Mac App Store上售价人民币198元]
Remixlive for Mac 1.2.3 介绍
The essential app for instant remixing, powered by pro samples. Remix music with synced loops, sounds & FX.
Mixvibes, the pioneer of digital DJing, introduces the perfect remix toolbox: lay down samples on a grid of pads and tweak them in seconds. Remixlive is all you need to turn ideas into high-quality tracks.
Want to create unique songs? Record live input through your microphone or sound card and capture any sound, voice or instrument. Fine-tune your samples by editing their length and envelope (ADSR). Play several samples per column to create rich and layered tracks and resize the grid at will.
Remixlive is optimized for live performance: change the tempo, adjust samples' tone or play them in reverse mode, all in real time!
/// PRO-SOUNDING SAMPLES
Modular Grid: customize the grid size to your own preference, up to 10 columns and 10 lines.
48 samples per pack: beats, basslines, melodies, vocals and FX samples.
Already over 18 varied sample packs, ranging from Hip-Hop to Dubstep - and more to come.
Artist pack by legendary DJ/producer Carl Cox & more to be added.
Create new packs by mixing and matching samples from existing packs.
Colored pads: choose among 16 colors to customize your grid.
/// REMIX TOOLBOX
Instant FX pad with all-new effects: Infinite Delay, Low Phaser, Flangus, Jet-Up, Metalizer, Basic Slicer, Fast Gate, Crush, Bliss, Big Bright Hall, Freezer, Reactor.
Loop your track using the different beat-repeat pads, from 2 bars down to a single beat.
Live BPM control (time stretching): change the tempo on the fly without changing the pitch.
Play several pads per column simultaneously.
Full mixer: for each column, control level, filter, Mute and Solo + DJM-modeled 3 band EQs.
Record your performance in high-quality audio: WAV, AIFF, FLAC, Ogg
Share your recordings via SoundCloud & YouTube.
Support for any MIDI controller through MIDI learning.
Control the app with your keyboard.
VST & AU host sync and syncs plugin with host transport: sync Remixlive with the host software of your choice.
/// EDIT SAMPLES
Edit Play mode (loop, one-shot, gate), Quantize, Gain, ADSR, Pan, Loop Division, Reverse.
Retrigger mode: tap on a sample to replay it from the beginning.
Import your own samples from the Finder in a variety of formats: WAV, AIFF, MP3, M4a, AAC, FLAC, Ogg, MP4 and WMA are compatible.
Record any sound or voice using any microphone or sound card.
Load, move and duplicate any sample, anywhere on the grid.
Transpose: raise or lower the tone of your samples.
Audio limiter: avoid saturation.
v1.2.3版本新功能
/// ADJUST BPM OF INDIVIDUAL SAMPLES
By default, Remixlive syncs all factory and imported samples to the master BPM. You can now choose to modify the BPM of any sample as follow:
Drop button: play your sample at its nominal BPM so it is not synced to the master BPM (easier use of 1-shot mode for performances).
Double the BPM or halve it in case the BPM was incorrectly analyzed.
Crop your samples manually to compute a more accurate BPM.
/// TIME-STRETCH BUTTON
New feature to control the tone of any sample when you change its tempo:
When activated: Change the tempo of a sample without changing the tone
When deactivated: Change the tempo and tone of a sample together.
/// IMPROVED ENVELOPE EDITING
The length between start and end of a sample is now snapped to standard beat lengths (1, 2, 4, 8, 16).
Changing sample length now allows the sample to remain perfectly looped.
Moving start and end points will keep the standard beat length chosen, allowing the sample to remain perfectly looped.
The release of samples now can still be heard after the pad has been released (Gate mode).
Edit ADSR with the mouse.
/// OTHER IMPROVEMENTS
Remove, double or halve the BPM with new keyboard / MIDI controls.
Select a given pad when on the Sample Editor mode, with new keyboard / MIDI controls.
Sample packs are now exported as a .rmxl file.
Open rmxl files from explorer/finder will open/import the pack directly in Remixlive.
Added sample type editor: loop, sound or user.
///BUG FIXES
Envelope: no more ending silence when the end point is changed.
Fixed audio glitch with custom ADSR.
Fixed memory leaks.
Fixed samples import
Fixed custom repeat frequency, filter and eq settings on pads at import/export of packs.
Fixed user created sample pack export.
Added menu to VST/AU plugin.
Fixed possible crash when swapping a playing pad.
Removed VST3.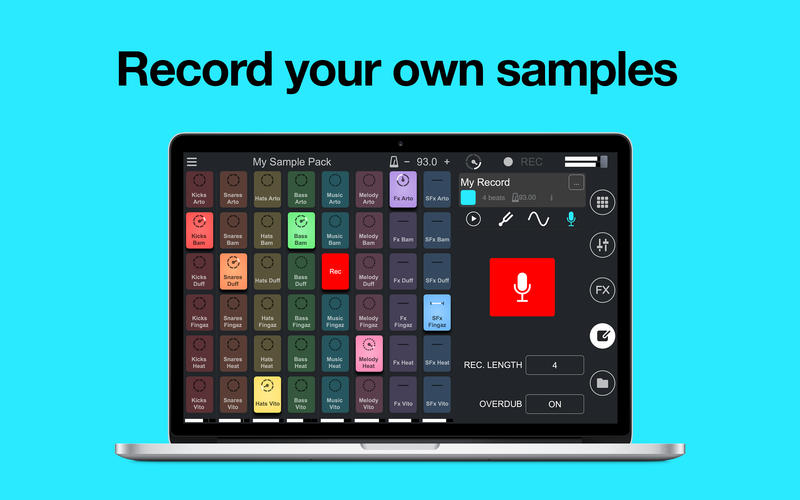 Remixlive for Mac 1.2.3 下载
免费下载
高速下载
荔枝正版
网站登陆
注:下载慢,下载不了 ? 请在评论留言或者使用高速下载通道