CameraBag 2 for Mac 2.8 激活版 – Mac上强大的图片复古特效处理工具
CameraBag是一款图片复古特效处理工具,具有150多款专业滤镜和30多种图片处理工具,支持RAW等常见的图片格式,让你轻松制作出复古照片,提供 1958、1962、1åç974 等老照片风格的滤镜,还有 lolo,mono 等滤镜,还有多种图片边框!
[CameraBag 2 在 Mac App Store上售价98元]
CameraBag 2 for Mac 2.8 介绍
"Every photographer with a Mac needs to use CameraBag" -Mac360
**** Design, Compare, Tweak And Apply Photo Filters, Fast ****
CameraBag is an award-winning app for fast and lightweight photo processing on your Mac. Using Lightroom or Photoshop can often be like driving a semi-trailer to pick up your kids from school. CameraBag offers a light and quick way to apply, tweak, and compare your go-to filters and adjustments across your photos. The toolset is remarkably robust, and is designed to handle all common photo editing tasks with ease, even on RAW photos.
"Nevercenter, the creators of CameraBag, have created another revolution for photo editing." -Professional Photographer Magazine
**** An Essential Addition To Any Photographer's Toolset ****
Many photographers use CameraBag alongside other photo organizing or retouching software as their go-to tool for quickly comparing different filters and adjustments on their photos. Others find that CameraBag fulfills all of their photo editing needs in a much more elegant way than their current photo software. Consider CameraBag either as an adjunct to your current photo editing tools or as an easy-to-learn big step up from basic photo editors.
"For editing photos, CameraBag 2 is hands down the best app I've ever encountered. It's really simple, incredibly powerful, and there's no clumsy learning curve." -SlashGear
**** Photo Editing, Meet CameraBag's Tiles ****
Why is everyone raving about CameraBag? In large part it's because of CameraBag's revolutionary tile-based editing workflow. You can always see exactly which adjustments are applied to your photo, tweak them, nest or rearrange the order they're applied in, and layer multiple instances of any adjustment. Everything is non-destructive, editable, and easy to see and compare. Once you try it you won't be able to go back.
"Mac App of the Year Runner Up" -Apple
**** Useful Tools You Won't Find Anywhere Else ****
CameraBag's tools cover nearly everything you'd want to do to a photo, and it adds tools you won't find in any other package. Advanced exposure and coloring tools, multiple kinds of tone curves, sharpening, cropping and more - all of these work with an ease that less-focused apps can only dream of. Our proprietary Analog Engine features an astounding 96-bit color fidelity (especially useful on RAW photos), which means you can layer on as many adjustments as you need without losing smooth color gradations.
"Stunningly fantastic … I don't think I've ever seen any photo app quite as elegant and easy to use." -Cult of Mac
**** Non-Cheesy Filters And An Easy Way to Re-Use Looks ****
Tired of fumbling through actions or presets to enhance your pictures? CameraBag takes the power of Photoshop's actions and makes it a dramatically more user-friendly process. If you don't know where you want to go with a photo, try one of CameraBag's many default filter presets, including classic film emulations. You can adjust any existing preset or design filters from scratch to save as your own re-useable presets. Filter effects can be large or small, for those wanting dramatic filters or lighter professional touch-ups.
**** Select Features ****
Analog Engine - CameraBag's 96-bit Analog Engine ensures your images retain smooth color gradations even with lots of adjustments.
Non-Destructive - All of CameraBag's adjustments and effects are applied as non-destructive layers, so you can always see what adjustments you've made and tweak any of them.
Raw Workflow - CameraBag easily handles RAW images with their additional color depth, giving you a much finer level of control over the tones in your photos.
Batch Processing - You can apply any set of adjustments or pre-made filters, along with resizing, to entire folders of photos at a time with Camerabag's easy batch processing.
Export Filters - You can design filters in CameraBag on your Mac and export them to use on your phone or tablet with our iOS photo app Fotograf.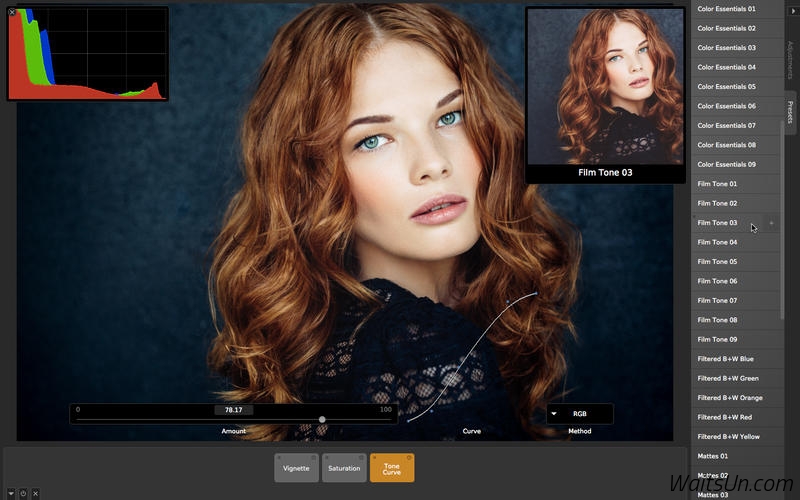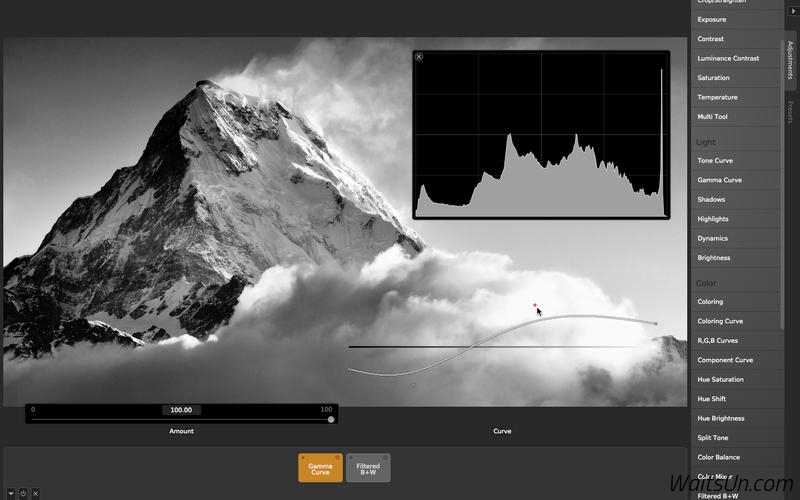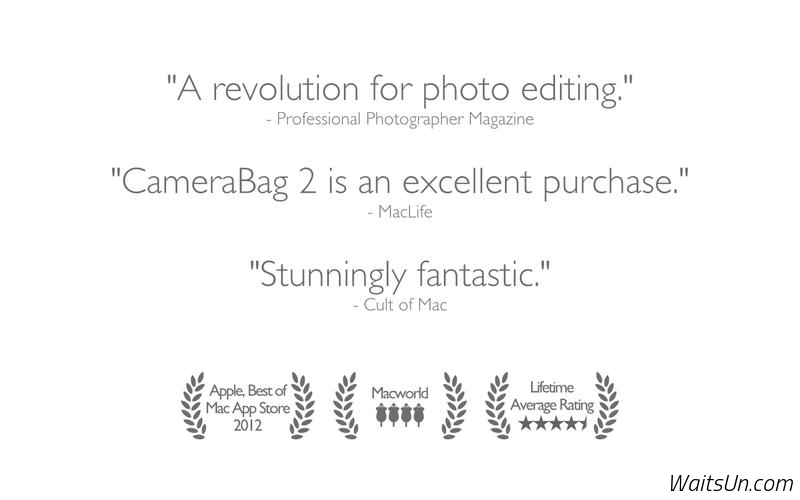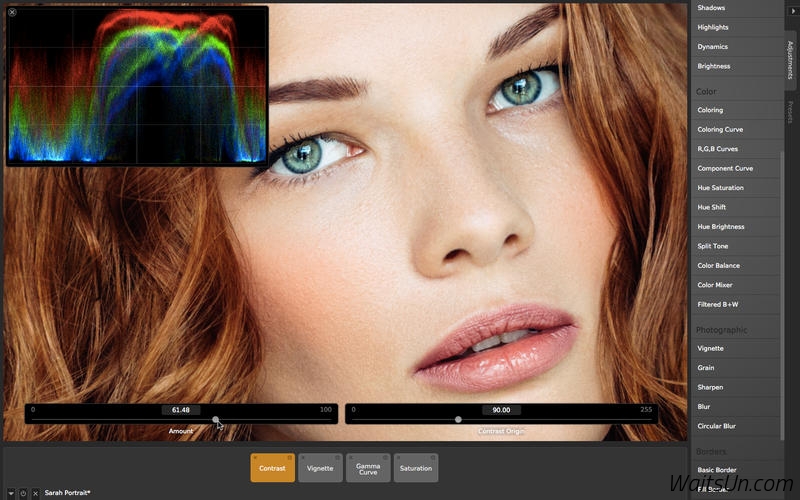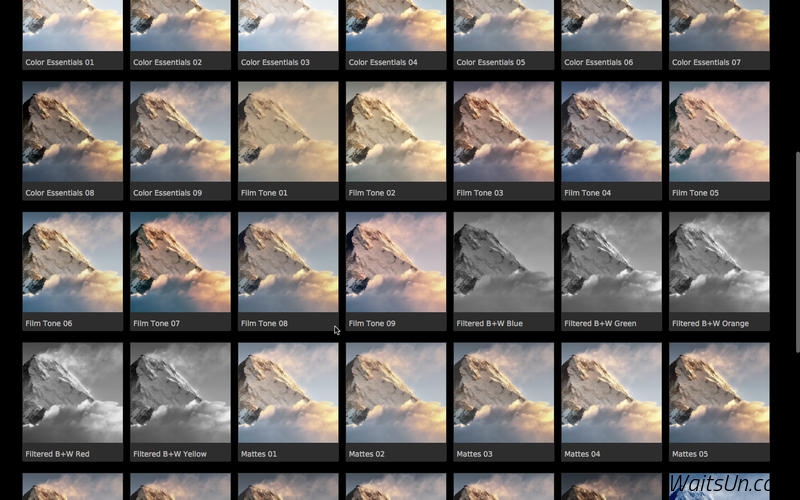 CameraBag 2 for Mac 2.8 下载
免费下载